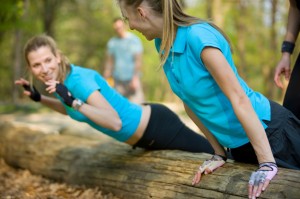 Attending one of the many fitness bootcamps available today is a great way of losing weight quickly.  However it is still important that you do some research into the various ones available so that you can choose the fitness bootcamp  that is right for you.   This will help to ensure that you then get the most out of it and will help you to achieve your goals.   In this article we cover some of the things to be looking at when you do your research.
1.  The first thing you need to understand when it comes to comparing various different fitness bootcamps is they may not always employ the best instructors.   When looking at what the bootcamp has to offer look to see what training the instructors have undertaken and what qualifications they have received
Often what you find with these types of fitness bootcamp exercise programs that have been set up by a local fitness instructor is that they obtain materials regarding setting up such a business.   Then they think that applying what is provided in this material will help them to get their business up and running.
The problem with instructors taking this kind of approach when setting up a fitness bootcamp is that they don't really design programs to meet the individual needs of those participating in them.   So of course even when you do their course which looks great on paper you will find that you have very little to show for it at the end.   Therefore make sure you choose one where the instructors will undergo specialized training and once they have completed this will be provided with certificates.   Plus as you are looking to lose weight make sure that you choose a fitness bootcamp program that has been designed for this specific purpose.
2.   As with instructors when choosing such a program the workouts involved aren't all the same.   Ideally you want to be looking for the kind of program where it has been proven to work as it has been used for some time.   This clearly shows that the instructors have experience in this type of workout regime and so will be able to tailor the program in order to meet your particular requirements the best.
Of course you may find that there are only a few such programs available in your area, which you can attend.   Again it is important to look closely what specialist training the instructors on these courses have undertaken.   If they haven't undertaken any then of course it would be much wiser to avoid such fitness bootcamps.
3.  Finally when it comes to choosing the right fitness bootcamp look for one that offers a great deal of variety to the workout regime.   If the workouts can be altered to allow some more challenge then this will not only help you to remain motivated but will also help you to remain focused on what you want to achieve.
So don't rush at joining the first fitness bootcamp program you come across because it is affordable.   Remember to take into account what it is you want to achieve by attending one.