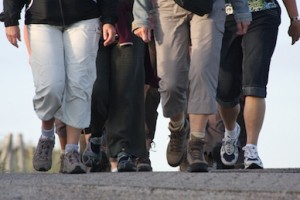 5 Reasons You Should Attend a Fitness Bootcamp
Attending a fitness bootcamp program provides you with the many benefits associated with working out and choosing to adopt a healthier lifestyle.   However in this article we take a look at some of the other reasons why this type of fitness program is going to help you not only get in shape but also lose weight.
Reason 1 – A Fitness Workout helps you to burn a great deal more calories.   Just undergoing a Fitness bootcamp workout will help you to burn off as many as 900 calories in an hour.   This is a result of it combining a number of different activities like calisthenics, Plyometrics, resistance training, endurance events and cardio circuits.   In fact this type of workout is going to ensure that the results you desire are delivered much more quickly in comparison to the workouts you may doing at this time.
Reason 2 – When working out very few people attempt to work themselves so that they are close to their physical limits.   But with this type of fitness program you will discover that the instructors will push you to work harder in order that you perform better.   The aim is that this will help you build and tone your muscles more quickly, increasing endurance and of course losing weight.   In order that you reach your fitness aims more quickly.
Reason 3 – At a fitness bootcamp you will be working alongside like-minded people and you will find that friendships are formed.   As a result of this you find yourself encouraged by them to stick with your program.   You find that others hold you accountable for what you want to achieve you find yourself much more motivated and focused on achieving your goals.   Plus of course you find yourself feeling happier with whom you are.
Reason 4 – You will receive all the benefits associated with having your own personal trainer but you won't find yourself paying the same high costs.   This is because the instructor's fees are divided between you and the other participants in the bootcamp.
Reason 5 – Finally you will find that this type of workout is actually more fun and exciting to do.   This is because you won't actually be doing the same routines day in day out.   As a result many who have participated in such boot camps have discovered that they are much more willing to stick with their new exercise regime and also to leading a more healthy lifestyle in the future.
Above we have provided just some of the reasons why getting involved in a fitness bootcamp when wanting to get in to shape could prove beneficial to you.   Of course the real benefit to you is that you are improving your health overall so there is less risk of you suffering from the kinds of health issues that others who choose to more sedentary life's tend to suffer from.
However one word of warning before you choose to attend a fitness bootcamp confirm with your doctor that this is okay to do.
If you enjoyed this Fitness bootcamp article please check out some others