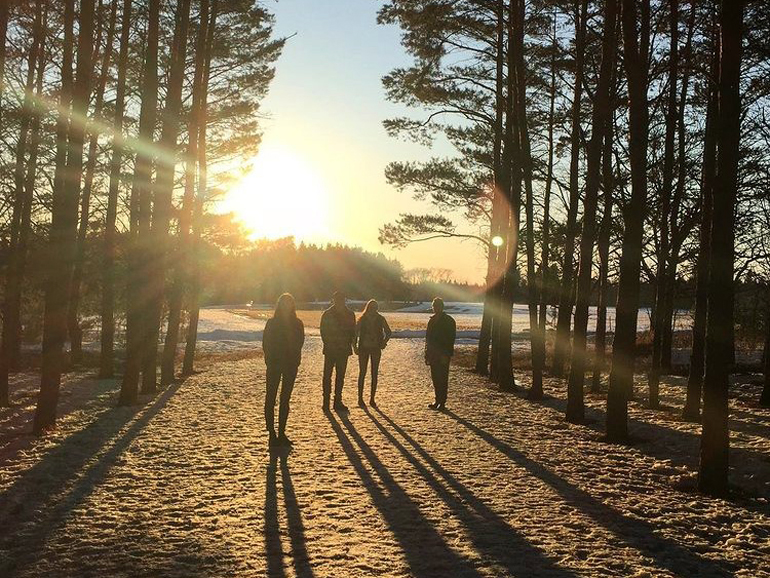 The way that you walk is indicative of how long you will live, according to the Journal of the American Medical Association's January 2011 issue. In this issue it is stated that the finding is the result of in excess of 14 years of study. People who by habit tend to walk faster can actually expect that they will live longer than those that tend to set a more leisurely pace instead. According to the research, the speed at which you walk will help to boost the level of physical fitness that you enjoy. In fact, the two benefit each other so that the faster you walk, the fitter you become, and the fitter you become, the faster you walk. For those thinking of purchasing some home gym equipment, this is certainly encouraging information.
Naturally, the studies that were referred to in that January 2011 issue of the Journal of the American Medical Association are not the only ones to have been conducted with regards to the benefits that result from walking. Most of us have heard that walking is good for your overall health and well-being but for some people, getting outdoors and going for a walk is somewhat easier said than done. A treadmill or other gym equipment meant for residential use can really help to keep you fit even if you can't get out as often as you would like to.
When it comes to the ways in which our bodies and health benefit from regular walking the following benefits have been known about for a long time:
Walking helps to improve the health of your heart
It helps to lower cholesterol
It regulates blood pressure
It reduces your risk of being diagnosed with diabetes
It will help you to shed unwanted weight
It improve general fitness levels
It helps to reduce levels of stress
Walking is a great choice in exercise no matter what your age or level of fitness may be when you begin. Doctors advise that you start slowly and gently increase the pace and distance that you walk each day according to the level of your fitness. In order to give the heart a good work out it is important to walk briskly for about twenty minutes at a time. You should start your session with a brief, two minute warm-up walk and then devote 20 to 30 minutes to brisk walking. When you are finished, another 2 minute cool down walk is recommended.
It does not matter if you get out into the fresh air for your walk, or if you prefer to use elliptical equipment in the comfort of your own home. Provided that you have the will and you are physically able to walk, nothing should stand in your way. All you need to do is set aside half-an-hour each day and walk your way to a healthier and fitter future.
If you decide to take your walks outdoors try to make it more fun by mixing up the routes that you take. You might also want company for your walk so why not rope a friend or family member in to join you? Of course it must be said that there is definitely a place for home fitness equipment, especially if you are unable to be outdoors for some reason. Another good thing about having your own treadmill, for example, is that you cannot use inclement weather as an excuse not to go for your walk. If you are inclined to do a sole elliptical workout and then nothing further for weeks or months, you will obviously not see or feel any benefits.
When it comes to choosing the fitness equipment you want in your home consider what is available and make a smart choice. Treadmills, elliptical trainers, exercise bikes, and rowing machines are all good choices and will help you on your way to a healthier lifestyle. If you really want to focus primarily on walking then a treadmill or the best elliptical trainer your budget permits would be the way to go. Those who are more mature will find that these types of fitness machines are gentle on joints and muscles and can be easily adjusted to suit your particular and individual needs and fitness level.
A walking workout routine is hugely beneficial and, ideally, should incorporate walks outdoors as well as sessions on the home fitness equipment you choose to purchase. Your commitment and consistency is vital to the success of your routine. Most people choose to set aside some time each week for outdoor walking and some time for working out with their home fitness equipment.
You can enjoy a faster metabolism, more energy, improved health, and even a longer lifespan simply by deciding to start walking! Walking is one exercise that anyone can do, whether you are older, a busy soccer mom, or even a sportsperson. Along with improved fitness levels you will enjoy better health, less stress, and know that you are better able to fight off diseases and other illness as well. All in all, walking is a sure way to a healthier future!
About the Author:
Joel has always been a firm believer that exercising can do wonders for you and your health. He recently discovered that the sole ellipticalcould be described as perhaps the best elliptical equipment for indoor workout exercising. If you want to find out more, please visithttp://www.topfitreviews.com.